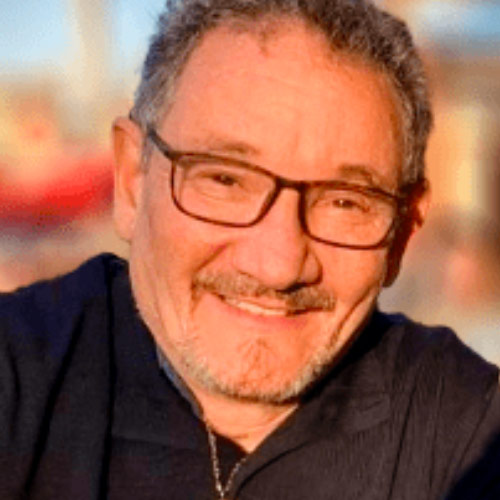 Grant Berry is a Messianic believer in Yeshua/Jesus and was born in London, England. Grant is married to Hali Berry, and they have five children. He is the founder of Reconnecting Ministries and Producer of The Romans 911 Project. As a Prophetic Intercessor, he has carried this burden of Reconnection from the Father for His family to reunite in The One New Man (TONM) between believing Jews and Gentiles in the Ekklesia/Church. Grant has received a commission from the Lord to help reintroduce love and unity in the family of God, according to Yeshua/Jesus's prayer in John 17.
William Koenig has been a White House correspondent for 16 years. He is the president of Koenig—World Watch Daily (www.watch.org). He publishes weekly, "Koenig's Eye View from the White House." William and his wife Claudia have traveled to 35 states and 10 countries speaking on the biblical significance of these days. They reside in the Washington, D.C. area.
J. Thomas Smith, Jr. received his A. in 1969, and his J.D. in 1973 from Vanderbilt University. In his legal practice, he has served as general counsel to a medium-sized multinational corporation, and as a principal in two law firms with a practice focused on corporate structure and related transactions, business litigation, and international and comparative law. A significant part of his corporate practice involved representing emerging entrepreneurs building their companies through angel or venture capital investments. From 1990 to 2006, his practice focused on in-house representation of companies in corporate, administrative and legislative matters in Tennessee and Washington, D.C. Since 1993, he has also served as a Vice-President of Men For Nations, the worldwide ministry of Dick Simmons from 117 Second Street, NE, Washington, D.C. Missions from there included chairing meetings to mobilize pro-family groups for pro-family advocacy at the meetings of United Nations following the 1994 ICPD conference in Cairo Egypt, interface with the leadership of Promise Keepers for their 1997 Stand in the Gap on the DC Mall and their 2009 conference with Messianic Israeli pastors in Boulder, Colorado. He has also served on the Board of the Call DC in 2000, the Boards of the Republican Majority Issues Committee, the first conservative 527, America 21, a 501(c)(4) that challenged pastors to engage in the political process, Vision America Action, a 501(c)(4) organization led by Dr. Rick Scarborough, and the Family Action Council of Tennessee led by former State Senator David Fowler. Since 2006, his practice has focused on litigation-mediation in Tennessee on behalf of churches, not-for-profit groups and other clients. He is admitted to practice before the Federal District Court for the Middle District of Tennessee, the Supreme Court of the United States, and has been admitted to practice pro-hac vice before various federal and state courts for specific litigation in a number of states.
Kevin and Sam Sorbo
Kevin David Sorbo (born September 24, 1958) is an American actor. He had starring roles in two television series: as Hercules in Hercules: The Legendary Journeys, and as Captain Dylan Hunt in Andromeda. Sorbo is also known for acting in the Christian drama films God's Not Dead and Let There Be Light.
Pat Boone
is a legendary American singer, composer, actor, writer and spokesman. He was a #1 pop singer in the United States during the 1950s and early 1960s. He sold more than 45 million records and had 38 top 40 hits, including 6 number one records, and 13 "million sellers", or gold records. In addition, Boone appeared in more than 15 Hollywood films.
In the years immediately prior to the British Invasion, only one performer rivaled the chart dominance of Elvis Presley, and that was Pat Boone. However, Boone represented the very essence of wholesome American values. At a time when the rise of Rock 'n Roll was viewed as a sign of the Apocalypse, Boone made the music appear safe and non-threatening. He also recorded a lot of Christian music, and even wrote the words to what is considered Israel's second national anthem, "Exodus."
His numerous charitable endeavors include hosting the Easter Seals Telethon for many years, helping raise $600 million for children with disabilities. Together with their son-in-law, Pat and Shirley Boone founded Mercy Corps, one of the top ten Christian humanitarian and relief organizations. Boone continues to support many other ministries, including the Salvation Army, Bible for the World, and the Fellowship of Christians and Jews. Among his numerous awards and accolades, Boone has three stars on the Hollywood Walk of Fame. In 2003, he was inducted into the Gospel Music Hall of Fame.
LTG (Ret) William G. "Jerry" Boykin
LTG (Ret) William G. "Jerry" Boykin was one of the original members of the US Army's Delta Force. He was privileged to ultimately command these elite warriors in combat operations. Later, Jerry Boykin commanded all the Army's Green Berets as well as the Special Warfare Center and School.
In his thirty-six years in the army, LTG Boykin also served a tour with the CIA. He has participated in clandestine operations around the world and served his last four years in the Army as the Deputy Under Secretary of Defense for Intelligence. Today he is an ordained minister with a passion for spreading the Gospel of Jesus Christ and encouraging Christians to become Warriors in God's Kingdom.
Since June of 2012, Jerry has been serving as the Executive Vice President of the Washington DC based Family Research Council. He is also the occupies the Wheat Chair for Leadership Studies at Hampden Sydney College in Virginia.
Jerry & wife Ashley, enjoy spending time with their 5 children and growing number of Grandchildren.
Steve Cioccolanti, BA, M.Ed.
, is a Christian author (Including "The Divine Code from 1 to 2020, bestseller "From Buddha to Jesus", and "30 Days to a New You"), a prolific teacher of God's Word and pastor of Discover Church in Australia.
Born in Thailand to a family of Catholics, Buddhists, Methodists, and Muslims, Steve has a unique perspective on evangelism, missions, and world religions. He is also known for accurate teaching of end times which predicted the Syrian crisis, the rise of Turkey and the sequence of events in the Book of Revelation. Having traveled to more than 40 countries as a Christian speaker, he has ministered in local churches, leadership seminars, missionary conferences, Bible schools and on TV and radio. His program airs on cable TV to 4 million viewers each week throughout Indonesia.
E.W. Jackson was born in Chester, Pennsylvania. He served in the U.S. Marine Corps and was honorably discharged in 1973. He graduated with honors from the University of Massachusetts in 1975 and from Harvard Law School in 1978. He practiced law for 15 years. He is Bishop of The Called Church and founder of STAND Foundation – Staying True to America's National Destiny (Standamerica.us). He has authored two books: Ten Commandments to an Extraordinary Life and 12 Principles to Make Your Life Extraordinary. Bishop Jackson hosts the National Awakening Conference Call weekly and is a daily talk show host on American Family Radio. He has been a guest on FNC, One America News and other media and written articles for American Thinker, The Washington Times, Western Journal and other publications. He won the Republican nomination for Lt. Governor of Virginia in 2013. He and his wife of 49 years, Theodora, reside in Suffolk, Virginia.
A pioneer of the modern praise & worship movement, Don Moen has spent his career as a worship leader, producer, songwriter, and music executive. His ministry reflects his passion to create resources for the church that lead people into an honest and intimate relationship with the Lord.
Don served as President of Integrity Music and executive vice president/creative director for Integrity Media. In these roles, he spoke into the production of hundreds of products including all of the CDs and worship resources produced by Integrity Label Group as well as producing more than ten Hosanna! Music titles. During his tenure at Integrity, he sold over 5 million units and signed worship leaders and songwriters such as Paul Baloche, Ron Kenoly, Darlene Zschech, and many others. Don spent over 20 successful years at Integrity Music until leaving to focus more time on touring and his own creative endeavors. In 2002, his peers recognized that lifelong commitment and presented him with the Ray DeVries Church Ministry Award and in 2019 he was inducted into the Gospel Music Hall of Fame.
Don is as popular overseas as he is at home in the U.S. His travels for concerts and seminars have taken him to Ghana, South Africa, Singapore, the Philippines, South Korea, Brazil, Canada, Australia, Great Britain, Hong Kong, Malaysia, Indonesia, Japan, Guatemala, Honduras, and elsewhere. Today, Don is President of Don Moen Productions in Nashville, Tennessee, where he resides with his wife Laura and five children.
Nicky Cruz is the author of eighteen books, including the all-time Christian classic, Run Baby Run, published in 1968 and translated into more than 40 languages worldwide. It continues to be a top-10 bestseller in the United Kingdom, and is required reading in many high school curricula in the UK, Finland, Australia, New Zealand, and many more. He is the president of Nicky Cruz Outreach, and Executive Producer of TRUCE, an aggressive international evangelism ministry dedicated to reaching urban communities.
Luis serves as the Lead Pastor at First Assembly of God church in Sand Springs, OK. He also serves on the Creek County Community Sentencing Board which oversees drug court, probation, and parole. As a result of the message of Jesus Christ, proclaimed through the Adult Teen Challenge Program, he is now a free and happy man.
For over 46 years, Luis has been free of drug addiction and a life of crime. He has dedicated his life to helping others find the same peace and freedom that he has. He is an Ambassador to faith-based programs and many individuals who face life controlling problems. He has ministered in jails, prisons, and schools across the United States and several nations around the world. He brings a message of hope and healing. He is the author of the best-selling book "Destined For Hell" and believes that what God has done for him God will do for others!
Curt Landry
is the founder of Curt Landry Ministries, an apostle and founder of House of David Ministries—the One New Man Embassy, founder of My Olive Tree, and author of Reclaiming Our Forgotten Heritage. Curt and Christie Landry minister weekly via LIVE streaming and at the House of David campus as well as travel extensively operating in the gifts of healing, signs and wonders, and teaching about the Jewish roots of the Christian faith and the One New Man. Curt is also active in raising support for Israel throughout the Evangelical community as he desires to be a bridge of unity and restoration between Israel and the Church. For more information about Curt Landry Ministries or to help support our projects in Israel and around the world, please visit
www.curtlandry.com
.
Rubén and Gloria Arroyo are the Pastors of the International Center for Restoration and Praise, known as CIDRA Church in the city of West Palm Beach, Fl. Pastor Arroyo is an author and eloquent speaker well known in Latin America. Together with his wife, Pastor Gloria, they represent a visionary and aggressive leadership in the preaching of the Kingdom of Heaven. CIDRA, is a "spearhead" congregation in its territory. Together with effective leadership, they have developed various Formation Schools in the areas of Evangelism and Missions, divine healing, prophetic designs and arts of worship. Thousands of believers in Latin America, Spain and Spanish speakers in the United States have been trained in the Schools sponsored by CIDRA Church.
Dan Steiner serves as Founder & President of Pre-Born, which on a national scale, leads the Pregnancy Center Movement in providing ultrasound machines, ultrasound sessions and competing with Planned Parenthood daily to reach abortion minded women in the largest abortion cities of America. Pre-Born clinics lead the nation in women receiving Christ. Dan and his wife, Valerie, live in Indianapolis, Indiana.
SIGN UP TO RECEIVE UPDATES
Fill out the form below to receive updates from THE RETURN.
BE PART OF WORLD REVIVAL!
Let us move forward in the Lord's power to continue the return, to bring salvation and revival to the world!