Rev. Kevin Jessip Co-Chair The Return, President of "Global Strategic Alliance", is an advisor to national and global leaders within the business, political, and faith communities. After years as an executive for one of the world's largest publicly traded companies, Kevin was called into a deeper ministry, where he began as a youth evangelist over 40 years ago. Kevin has used his business experience as an executive and a visionary, for founding, developing, and funding ministries, and faith-based outreaches. Kevin has long carried the burden for a sacred assembly for the sake of restoration and is a dedicated leader for "National and Global Repentance". This is a cry for our nation and the nations, to turn to God. Working closely with many faith leaders and the current administration, Kevin carries a burden for America and the nations to return to the foundation from which they were birthed. Kevin has worked to create a platform that involves governments, elected officials, community organizers, organizations, business leaders, pastors, rabbis, churches, synagogues, and other concerned citizens who are seeking likeminded transformation worldwide.
Jonathan Cahn, known as pastor and rabbi, caused a worldwide stir with the release of his explosive first book The Harbinger which became an instant New York Times best seller and brought him to national and international prominence. He was named, along with Billy Graham and Keith Green, one of the top forty spiritual leaders of the last forty years to have radically impacted the world. All four of his subsequent books were also New York Times bestsellers including his most recent book, The Oracle, which debuted at number one. Called the prophetic voice of this generation, he has spoken on Capitol Hill, at the United Nations, and to millions of people around the world. He has warned of America's departure from God, has long called for national repentance and the necessity for revival, and has issued the call to return. He is known for opening the deep mysteries of Scripture and bringing forth messages of prophetic import. He leads Hope of the World ministry, an international outreach of teaching, evangelism, and compassion projects for the world's most needy. He also leads the Jerusalem Center/Beth Israel, as rabbi and pastor, a worship center made up of Jews and Gentiles, people of all backgrounds in Wayne, New Jersey, just outside New York City.
Anne Graham Lotz is an American Protestant evangelist. She is the second daughter of evangelist Billy Graham and his wife Ruth Graham. She founded AnGeL Ministries, and is the author of 11 books, of which her best known is Just Give Me Jesus. The New York Times named Anne one of the five most influential evangelists of her generation. She's been profiled on 60 Minutes, and has appeared on TV programs such as Larry King Live, The Today Show, and Hannity Live. Her Just Give Me Jesus revivals have been held in more than 30 cities in 12 different countries, to hundreds of thousands of attendees. Whether a delegate to Davos' Economic Forum, a commentator to the Washington Post, or a groundbreaking speaker on platforms throughout the world, Anne's aim is clear – to bring revival to the hearts of God's people. And her message is consistent – calling people into a personal relationship with God through His Word.
Michele Bachmann became a born again believer at the age of sixteen. She served several terms as a Member of Congress in the United States House of Representatives. Michele served on the House Permanent Select Committee on Intelligence as an overseer of the Central Intelligence Agency, the National Security Agency, and the rest of the U.S. intelligence community. She was a presidential candidate in 2012, coming in first in the Ames Straw Poll. Michele stepped down from public office to pursue other goals and lifelong dreams. Her autobiography, Core of Conviction, shares of the values and faith that have guided her life. Michele has served as the Co-Chair of the Jerusalem Prayer Breakfast and serves in ministry to the United Nations.
Carter Conlon is the senior pastor of Times Square Church in Manhattan, an interdenominational church with over 10,000 people in attendance, representing over 100 different nationalities and 700 home satellite fellowships worldwide.In 1994, Carter Conlon was invited by David Wilkerson (author of the best-selling book The Cross and the Switchblade and founding pastor of Times Square Church) to help pastor Times Square Church. He became the senior pastor in 2001. From the very beginning, Conlon's heart has always demonstrated a passion for prayer. On one occasion God prompted Conlon to call together the churches of New York City to congregate for one hour of prayer on the streets of Manhattan.
Dr. James Dobson
is a celebrated Christian leader, author and psychologist. He earned his Ph.D. from the University of Southern California in the field of child development with a minor in research design. He is the founder and president of Family Talk and the James Dobson Family Institute, a nonprofit organization that produces his daily radio program,
"Dr. James Dobson's Family Talk."
In 2008, Dr. Dobson was inducted into The National Radio Hall of Fame. Follow him
@DrJamesCDobson
​ The James Dobson Family Institute is dedicated to preserving the biblical institutions of marriage and family by encouraging, inspiring, supporting, and leading parents and children to build their lives on God's Word.
JDFI's
mission is driven by Dr. James Dobson's legacy of serving families with broadcasts, videos, articles, leadership training, and policy advocacy to ensure the next generation of families are equipped to stand firm with answers to life's most difficult questions.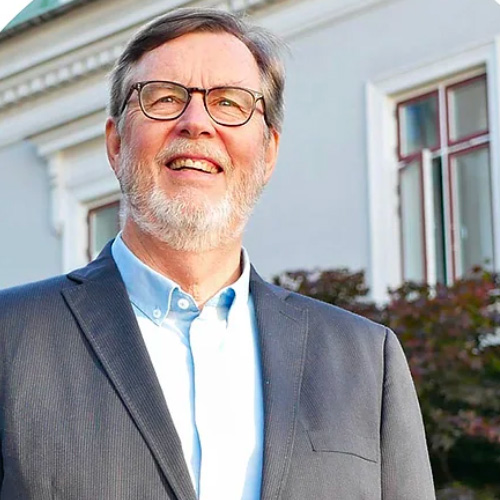 Lars Enarson is an author, prolific Bible teacher, international prayer leader, and has been in full time Christian ministry since the early 1970s.
Mike Lindell Mike Lindell is best known as the inventor and CEO of MyPillow, although his notoriety as someone radically freed from the power of addiction is beginning to exceed even his MyPillow fame. His deep enthusiasm and heart for helping people recover from addictions is what has inspired him to launch the Lindell Recovery Network. The LRN is an amazing platform which will help millions of people find recovery and Jesus through help, hope, and mentorship.
Mike has a special knack for treating each of his employees as though they're the most important person on earth, and that interpersonal gift spills over into all areas of his life. That includes his most important call: to help people get set free from addiction and find Jesus. Mike knew MyPillow was just a platform for God, and he has followed his calling to help bring people to Jesus and help give addicts hope so they can overcome their addictions.
Mike's goal with the Lindell Recovery Network is to help millions of addicts get their hearts restored and set free from addiction, as well as to provide tens of thousands of jobs for them – and above all, to help them find freedom in Jesus.
Steve Strang is the publisher and founder of Charisma magazine. Charisma, recently celebrated it's 40th anniversary and has been a trusted source of news, teaching and inspiration to help spread the gospel of Jesus Christ through the power of the Holy Spirit. Strang is the author of the book God and Donald Trump. This husband and father is an award-winning journalist, entrepreneur, businessman and author. Steve is also founder and president of Charisma Media, which in addition to Charisma, publishes Ministry Today, the Spanish magazine Vida Cristiana, New Man, Spiritled Woman and Christian Retailing. His Orlando, Fla.,-based company also includes Charisma House, Siloam, Creation House, Casa Creación, Realms, and FrontLine, plus many other innovative products that have earned a reputation as the world's leading charismatic publisher.
Mark Gonzales is the Founder of the United States Hispanic Prayer Network and the United States Hispanic Action Network, two organizations that God is using in this hour to awaken, equip and engage the church to establish His Kingdom agenda and values on the earth. Mark travels the nation extensively, training, engaging, mobilizing and organizing the church in prayer and civic action from a biblical worldview. Mark has been an effective leader in the movements of prayer and civic engagement for over 15 years. He has had the honor of working alongside many great men and women of God in both the church and governmental arenas. Mark has also had the privilege of working with some of the most renown ministries in the world. From the Billy Graham Evangelistic Association to the Global Day of Prayer, National Day of Prayer, TheCall, Generals International, TransformWorld USA, Awakening America, America for Jesus, Texas Apostolic Prayer Network, United States Reformation Prayer Network, Heartland Apostolic Prayer Network & the list goes on. He also served on the Superbowl XLV Congressional Prayer Committee in 2011. Additionally, he has had the privilege of being a part of 20+ Stadium prayer gatherings where he has been a part of the organizing & mobilization committee. He has spearheaded national and international prayer gatherings that have been televised in over 100 nations.
Gordon Robertson was named chief executive officer of CBN on December 1, 2007. Prior to becoming CEO, Gordon was the vice president of CBN International, the executive producer of The 700 Club and a member of CBN's board of directors. In 1994, Gordon moved to the Philippines and founded CBN Asia. In 1995, he also founded the Asian Center for Missions (ACM), dedicated to training and sending Asian missionaries throughout the world. ACM is now the largest missionary agency in the Philippines with more than 2,000 graduates trained in cross-cultural missions. In 1996, Gordon started CBN Asia's flagship television show, The 700 Club Asia, which is now one of the longest-running Christian television shows in the Philippines and is distributed by satellite around the world. Also in 1996, CBN Asia started a humanitarian organization, Operation Blessing Philippines, which has been recognized as "NGO of the Year" by the Philippine government.
Robert Morris affectionately known by his congregation as Pastor Robert – became Charismatic and eventually served as an associate pastor at a local church before resigning one year prior to starting Gateway. During that year, Morris preached for Trinity Fellowship Network, an Amarillo-based network of Charismatic churches led by Jimmy Evans (better known for his MarriageToday ministry; Evans also serves as one of Gateway's Senior Pastors). Morris' show, Pastor Robert Morris Ministries, formerly The Blessed Life, airs regularly on both Trinity Broadcasting Network and Daystar Television Network – Daystar founders Marcus and Joni Lamb are Gateway members. He openly supports Christians being active in the public arena and is a member of President Donald Trump's Executive Council of Evangelical Leaders; not surprisingly this has earned him enmity among liberal Christianity. The author of 14 books, all of which were taken from various sermon series, Morris and his wife Debbie are the parents of three children (two sons and one daughter) and nine grandchildren.
Alveda King is an American activist, author, and former state representative for the 28th District in the Georgia House of Representatives. She is a niece of civil rights leader Martin Luther King Jr. and daughter of civil rights activist A. D. King and his wife, Naomi Barber King. She is a Fox News Channel contributor. She once served as a senior fellow at the Alexis de Tocqueville Institution, a conservative Washington, D.C., think tank. She is a former member of the Georgia House of Representatives and the founder of Alveda King Ministries. She has served in various organizations such as the Howard Center for Family, Religion & Society; Silent No More Awareness Campaign; Coalition of African American Pastors; National Black Pro-life Coalition; Bible Curriculum in Public Schools; and Abortion Recovery International. Alveda King is a regular contributor on Fox News. Her overall message to her followers is "Faith in God and the commitment to fulfill His will for our lives—not faith in government bureaucracy—is the key to positive action. Have faith in God!" King resides in her hometown of Atlanta, Georgia.
John Kilpatrick was blessed to experience firsthand the Glory of God as Holy Spirit entrusted him with the pastoral oversight of the historic Brownsville Revival in Pensacola, Florida and the Bay Revival in Mobile, Alabama. He currently serves as the founder and senior pastor of Church of His Presence in Daphne, Alabama. He also travels extensively across the nation spreading the fires of revival and impacts churches around the world through media ministry. With nearly fifty years of pastoral ministry, twenty-two of which included his ministry at Brownsville Assembly of God in Pensacola, Florida, he and his wife, Brenda, are fulfilling their apostolic call by helping to establish churches and by mentoring ministers. His hunger and passion for God's presence awakens and stirs the hearts of many to cry out for a move of God.
Pierre Bynum serves as Chaplain and National Prayer Director for Family Research Council, working with FRC's President, Tony Perkins and Vice President for Church Ministries, Dr. Kenyn Cureton, helping to lay and maintain a foundation of biblical prayer, critical to success in FRC's mission to defend and advance life, faith, family, freedom, and righteousness in government. Pierre sees praying churches as key to the fulfillment of our children's and our nation's destiny. Born in Washington, D.C., he studied at Prince Georges Community College, the University of Maryland, College Park, The College of Southern Maryland, Washington Bible College, New Life Bible Institute and Christian International School of Theology where he earned a Th.B. while pastoring full time and raising a family.
SIGN UP TO RECEIVE UPDATES
Fill out the form below to receive updates from THE RETURN.
BE PART OF WORLD REVIVAL!
Let us move forward in the Lord's power to continue the return, to bring salvation and revival to the world!